Microsoft Dynamics 365 for talent is the latest addition in powerful suite of business apps Microsoft provides. Along with the Core HR module it becomes a complete HR suite for small and medium sized businesses that help you hire, engage, train and retain your organizations workforce.
`
1. Dynamics 365 for Talent – Attract
Designed to attract the right talent for your organization needs and access candidates using inbuild AI. Attract takes care for the processes before a candidate is hired, like filtering the right fits, interviewing and offer management. You can easily create jobs, define your external and internal hiring team , define hiring process and post it at different job portals.
Some of the prominent features of Attract include.
Easily Create Jobs
Easily create jobs using templates or defining your own job details.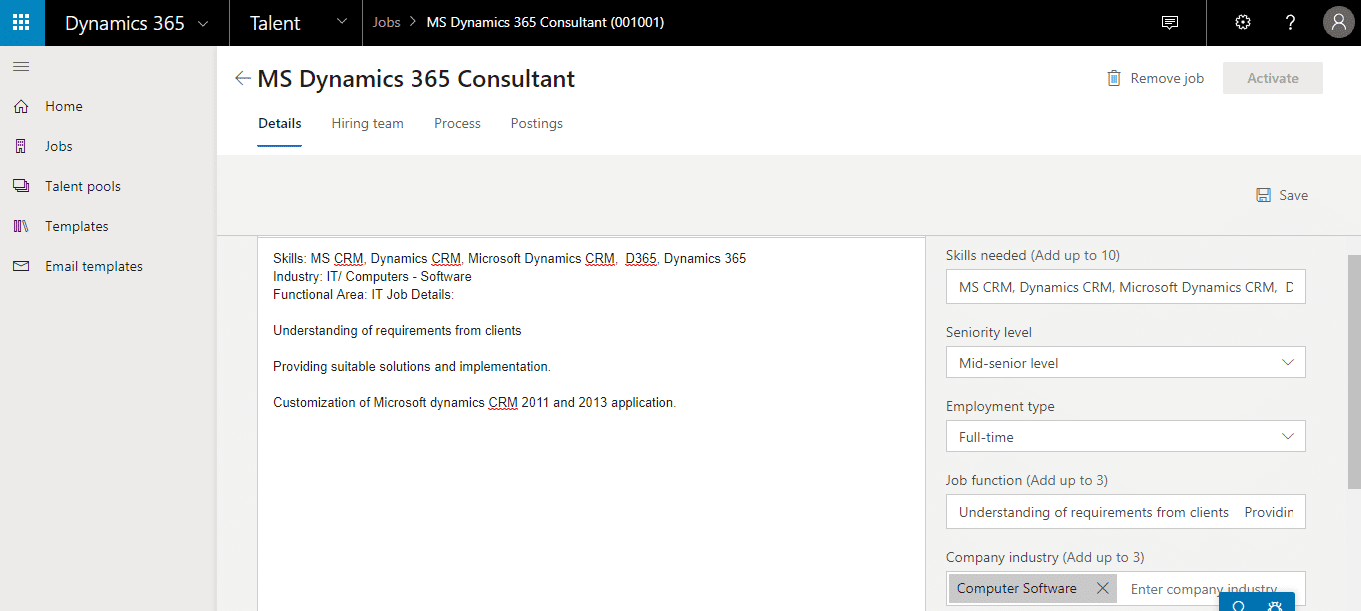 Define Your Internal and External Hiring Team
Add team members for the recruitment process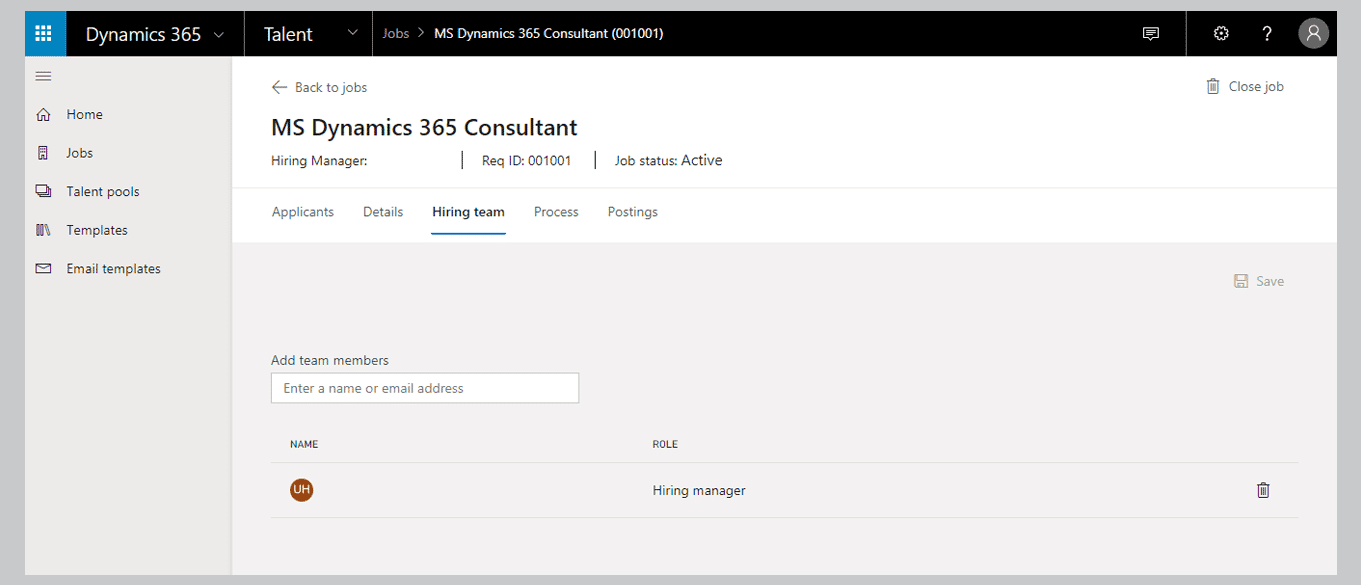 Easily Setup Your Hiring Process
Customize your hiring process and create drag and drop workflows as per your organization's needs
Post Requirements on Job Portals
Easily post on LinkedIn and other portals
Easily Screen and Interview Candidates
Easily shortlist and screen candidates. Also, create pool of candidates who might be good fit for future requirements and keep their profile updated with LinkedIn connect. Use tools like Skype to interview candidates.
Create Customized Job Offers
Easily create customized job offers with email templates.
2.Dynamics 365 for Talent –Onboard
Designed to make your workforce feel part of the team from day one by creating an engaging Onboarding experience. Takes care of the HR processes like candidate induction, and trainings. Once a candidate accepts an offer he moves to the onboarding process.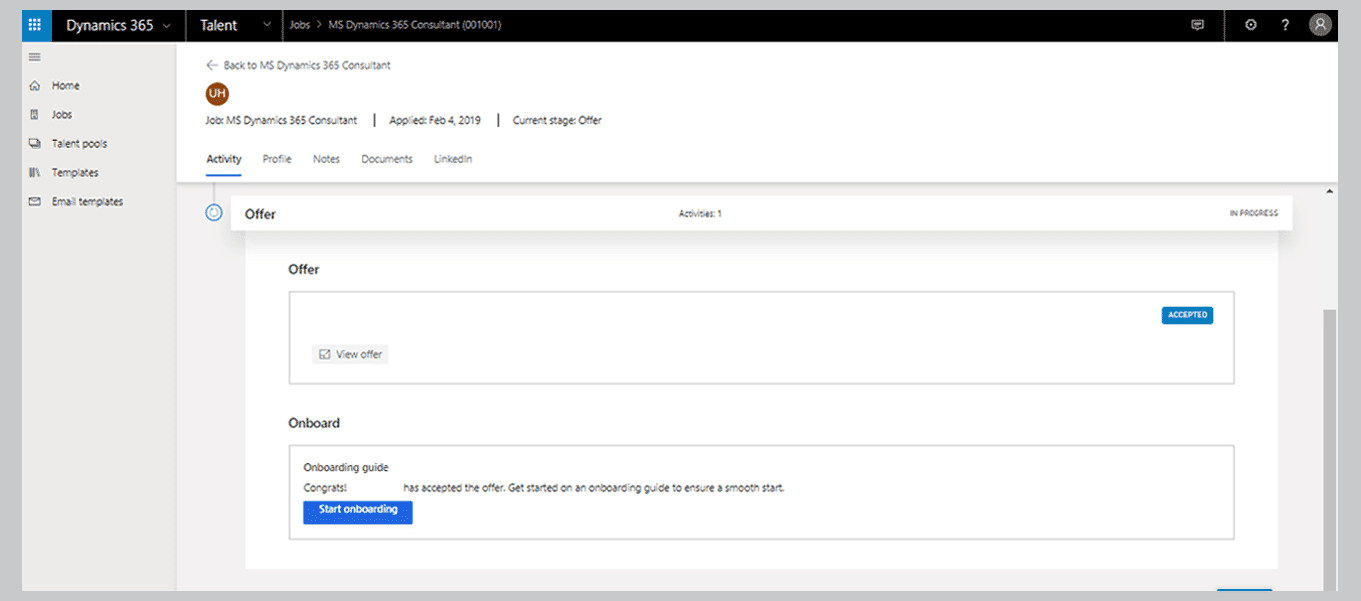 Create a Guide
Create a guide to onboard your recruit.
Welcome New Team Member
Welcome new team members with customized or templated messages.
Define Activities
Define activities like background check , roles and responsibilities of your employees using an easy drag and drop interface.
Contacts
Connect new employees to right people like team mates, HR, Admins so that they feel right at home from the first day.
Resources
Resources lets you add links, maps and other important files that may help your new hire get easily accustomed to the office location , nearby places etc.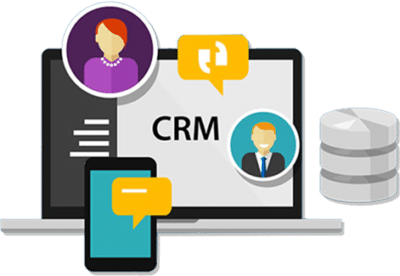 Do you want to implement Microsoft Dynamics 365 for talent within your organization? Contact our team to learn more about the features of Dynamics 365 for Talent or schedule a demo.