Microsoft Dynamics 365 CRM is a business software product that helps startups and business owners optimize their processes by leveraging real-time data to make growth and innovation possible. Dynamics CRM also comes equipped with the latest analytical tools, automation features, and a user-friendly interface. All three additions will ensure that all your transitions are smoother, operations are carried out faster, and services provided are of the highest possible quality.
Recent advancements in Information Communication Technology (ICT) has drastically reinvented the way business is organized. Dynamic customer trends and the increasing importance of information-based decision-making has made customer data become a necessity for any business to survive. Highly competitive businesses know how to leverage their knowledge to design marketing campaigns, stock the inventory, optimize delivery schedules, and provide personalized customer care.
Dynamics CRM goes one step further by providing creative data management and reporting module. Due to its effectiveness, the Dynamics 365 reports module has become the most popular feature for businesses that are leveraging market intelligence. If information is a necessity for creating a successful market strategy, then reports are the basis for maintaining said strategy and ensuring smart teamwork.
Dynamics 365 reports enable you to make creative presentations, coordinate multiple teams, access quick updates, and convert information to a competitive edge. Let's look at a few of these reports' tools.
Copy Infographic
Views
The views feature is one of the easiest to set up and operate in Microsoft Dynamics CRM. By modifying the Views, you get a chance to decide what fields and elements show up on your reports. The feature is highly customizable, enabling you to get creative based on your audience and the needs of your company. For example, in a real estate firm, you could create a report that shows only high-end houses up for sale. Combining this with information on geographical location and you have a quick file to equip salespeople. Views work in tandem with Advanced Find to provide new possibilities.
Charts
Views may be cool, but Charts take it to another level. With a chart, you could provide large amounts of complex information on a single page. Pictures do speak a thousand words. I believe the best part of Charts is how it lets out your inner Picasso. Also, the Drill-down feature is a must-have. Charts allow you to summarize and present data colourfully and creatively. The Drill-down feature will enable you to focus on appropriate or required data options, filtering the unnecessary distractions. Using Charts, a financial report can provide a summary of the company's annual report, then Drill-down to reports on a particular month, or filter every other expense below a certain amount. With Charts, you get access to bars, pies, funnel, line, and area graphs. In my humble opinion, the first two could fill a man's appetite.
Advanced Find
Advanced Find is a great data management feature. Advanced Find enables users to build complex queries and search functions. With Advanced Find, you could filter fields on records, link reports, find relevant files, and make good use of your information library. You could also use Advanced Find to design targeted views and reports. Advanced Find will aid you in creating optimal schedules, leveraging information to develop best-fit strategies for victory. By providing data management tools to your team, you get the competitive edge that you desire.
Excel Templates
Excel is part of Microsoft's popular office tools. The spreadsheet product is a big help to financial teams, especially providing an organized system of reporting, data management options, and excellent formulas. Excel Formulas are so effective that's pronounced why so many use it as a calculator and a brilliant calculations it makes. Excel Templates allow you to create Excel documents in Microsoft Dynamics 365. This means you don't have to give up your Excel spreadsheet or need to start learning a new system of calculation. You still get access to smart formulas for calculation, PivotTables, charts, and graphics. Excel templates can also be used with Views and other tools.
Dashboards
On the Dashboard you get access to live reports that are summarized and aggregated. The Dashboard is like your company home screen. Here you could place the most essential analytic and get updated reports as you desire. The Dashboard features may not be comprehensive for a full report, but its what a workingman needs to make smart decisions while on the move.
SSRS Reports
Short for SQL Server Reporting Services, the SSRS reports are very much like Views in terms of functionality. SSRS reports is the most different in capability. With this reporting tool, you get to enjoy enhanced data management, search functions, and formatting that is limited in the previous options. This improved capability is traded with lower ability and capacity in using filters and charts. SSRS reports can create necessary reports with extensive formatting and data analytics. Scripts are needed to develop SSRS reports, and those require you to have some programming skills to write them. You could create multiple report types, run complex calculations, and add various reporting elements. Although the tool is limited in designs, it doesn't eliminate the feature, thus providing attractive reports with cool designs. In exchange, you get powerful features for working multiple reports simultaneously.
PowerBI
Power BI integration with Microsoft Dynamics 365 provides reports that are on a whole other level. Power BI brings enhanced data analysis and management features to the table. With PowerBI, you can filter unwanted data, make complex calculations, and visualize data on creative graphics. Going one step further, PowerBI provides live reports with dynamic fields that enable users to modify the whole reports as they desire. PowerBI can use Microsoft Dynamics 365 CRM as an information source combining it with other integrated modules to increase the level of information on a report. PowerBI can also export its Dashboard to your CRM and provide you with smart summaries.
Conclusion
Microsoft Dynamics 365 Reports are cool when you have access to the right tools. By integrating the tool that best fits your needs, you can provide your team with enough tools to design a winning strategy.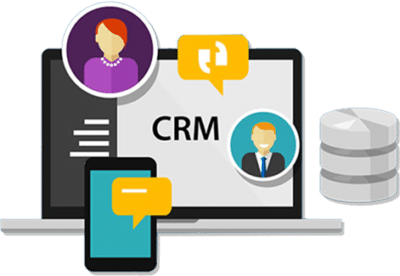 Microsoft Dynamics 365 Business Central is an all-in-one ERP business management solution that helps you connect your financials, sales, service, and operations to streamline business processes. Connect our team if you are interested in implementing Dynamics 366 business central in your business.