Since artificial intelligence entered science fiction, fans have dreamt of the day when technology would have advanced enough to provide us with our personal AI assistant. As business owners, salespersons, and startups, we can think of a myriad of application for AI in business, especially AI applications in CRM.
The usage of AI in CRM will enable sales reps and companies to not only automate business projects, but the AI would learn how to improve and execute projects with efficiency. AI usage in CRM can also reduce time spent on analyzing extensive data, minimize human error, and train new sales representatives.
Below are a few examples of how AI and CRM can combine.
Copy Infographic
Provide Guidance Based on Callers' Voice and Speech Analysis
AI systems can find application in CRM by detecting a caller's emotional state and then prescribing an appropriate response for the agents to apply. When callers contact the sales team, they are either impressed or rebuffed by the sensitivity of the responder. AI usage in CRM consulting will improve customer's satisfaction, and teams will spend less time resolving issues.
Personalized Content Generation
AI in CRM can improve the content generation by startups and established businesses. With an AI studying social media trends, customer profiles, and recent orders, the AI to produce creative contents that would be personal to consumers or target groups. This activity would save time, money, and human resources.
Trend Detection and Prediction in CRM
Although the CRM system collects a lot of useful data, it requires skill and experience to apply the results of the data analysis. Sometimes, due to the quantity of data, opportunities are missed or bypassed. AI would be able to quickly and efficiently analyze past data for recurring trends. With this information, it may also predict future occurrences and suggest optimal actions.
Interactive Training Simulation for New Employees
With the amount of data captured by CRM systems, AI can find application in training rooms and educative sessions. AI in CRM can simulate day to day scenario, providing adequate training and evaluation of trainees.
Optimal Resource Allocation and Cost-Savings
AI usage in CRM can be used to optimize cost savings further, using the data collection, analysis, sharing solutions available. Thus, AI in CRM helps to minimize spending and resource allocation.
Analysis of Large Data
Most successful salespeople are usually not very sound in data analysis. They tend to rely on intuition and experience. Forcing sales representatives to learn data analysis would be time-consuming. With an AI assistant, large amounts of data analysis is executed round the clock.
Analysis of Social Media and Company Data to Rate Prospects
Recurring trends present information about clients available through social media. With an AI analyzing the knowledge acquired by CRM, companies can make a personalized advertisement and appropriate service.
Call log and analysis
AI can record, transcribe, and analyze details of a call. In this way, different calls and callers can be grouped based on prospect ranking. Also, AI can recommend areas for improvement.
AI services Desk
AI can replace human agents at service desks. A fully functional AI desk agent is something that is still to be seen in future. Current AI examples can handle simple tasks such as registering complaints, opening accounts and answering questions.
Analyzing Historical Records
The bulk of information stored in company's CRM contains historical records and stores valuable information that may provide insights and pose a serious threat to privacy.. AIs can search through these extensive data and pull out important information.
Presently most CRM software is already making use of simple AI to automate CRM procedures.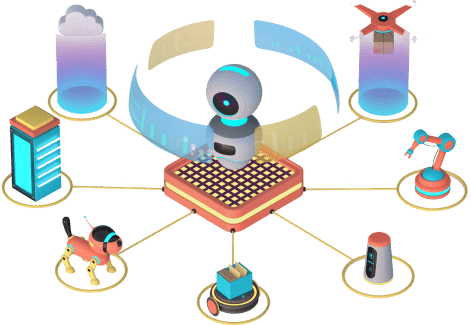 Planning to Leverage AI for your business? We provide AI Consulting to help organization implement this technology. Connect with our team to learn more.