LinkedIn is a professional networking site that ranks high in professional hobnobbing. This portal is amongst the most powerful social media platforms with a large user base of around 433 million professionals from a variety of backgrounds, who leverage on this intuitive, dynamic web application for seeking professional connections. Microsofts recent acquisition of LinkedIn will add another new dimension to its large scale expansions in Human Resource Management that will benefit customer relationship management software (CRM). Considered to be one of the largest technology acquisitions by Software Pundits, the recent LinkedIn merge with the Microsoft software giant will speed up the entire CRM work process, thus giving a good analysis of sales and marketing that will build a business with improved social interaction. Microsoft Dynamics CRM facilitates sales, customer service automation, social media analysis and reports. Now, there is LinkedIn social media alternatives that integrate in MS dynamics CRM for a timely and informative response to a customer's query or translating LinkedIn interaction, into an email exchange with a sales rep or customer service. This can help your business keep on top of all its customers needs.
HR management efforts using Microsoft Dynamics CRM
Microsoft Dynamics CRM all new Dynamics ATS integrates technology, to engage customers and prospect leads in effective employee management, through a talent acquisition add-on in human resource. This is far more similar to the recruitment functioning of LinkedIn, and it is called the Microsoft CRM consultant social network. Supporting the overall human resource recruitment process, refined LinkedIn data of prospect professionals last interactions with an associated company, give wider insights into employee interest, strength and engagement or departure from the company. Allowing you to interview the best suited candidates for your team.
Sales Productivity and collaboration with Microsoft Dynamics CRM
The Microsoft Dynamics CRM software incorporates all the LinkedIn network details that show the built-in connections of the individuals, with all the other employees. In addition to the conversation, other information can also be tracked effectively in the same manner as collecting customer data with marketing emails that automates customer analysis. This will further help Microsoft CRM consultant to effectively use this information for automated process and increase your sales accordingly.
Data Quality and Sales Productivity
LinkedIn offers enhanced functionality to save and curate the latest accurate information of users, who maintains login credentials with the site. This information goes on reviving with regular updates from the registered professional, sharing work and experience information. These refined sources of information enhance the functioning of MS Dynamics CRM software package by creating additional data to analyze later.
Microsoft Dynamics CRM enhance Sales Intelligence
Proving to be a natural boon for the sales rep, LinkedIns natural database mining supersedes Microsoft Dynamic CRM comprehensive solutions, to furnish updated information about contacts for conducting thorough research on prospect prior to making contact. This provides superb reporting tools to Microsoft CRM consultant for enhanced productivity in sales by ensuring the leads pursued are the most effective ones.
Employee Recruitment Acceleration
Human resource management teams hunt tirelessly to attract the Crème de la Crème candidates that can prove to be an asset to the organization. To materialize these recruitment efforts they rely on a combined source of LinkedIn and MS Dynamics CRM Software solutions, to gain deeper insight into the prospective candidates detailed profile data for enhanced short listing and analysis. Recruiters benefit in a similar way as the sales rep because LinkedIn data accentuates online professional branding for the employees that helps in migrating towards different organizations that testify Linked details to conclude the candidature. This can speed up your employment process without sacrificing quality of candidates.
Employee Engagement and Retention
After the induction of the suitable candidates the next big challenge posed for the employers, is to keep the attrition at the lowest and retention at the highest. For this, they can leverage on exceptional MS Dynamics CRM software to maintain employee relationship effectively by seamless syncing with Outlook, to trace the entire communication with applicants, monitor performance of recruits and generate payroll easily.
Microsoft is planning for more than this in order to establish, a sheer monopoly in the domains of cloud based CRM software solutions. The core competition with Salesforce is still alive, as both of these big-wigs are vying to grab the number one position as the world leader in indispensable CRM solutions. Though Sales force has earlier done a lot to pioneer in cloud computing CRM, but with a sudden crunch of much needed innovations this CRM solution provider seems to have lagged behind in taking stronger decisions to revamp its products.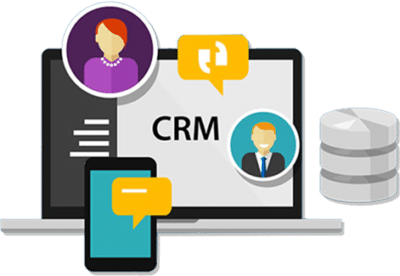 Cynoteck Technology is a leading expert on Microsoft Dynamics 365 and we provide an array of Dynamics 365 Consulting Services to all size of businesses. Get in touch with us for latest updates on Dynamics 365.