The recent past has been witness to healthcare providers directing their attention towards CRM (Customer Relationship Management). This is because they've finally identified CRM to be a solution that offers improved capabilities in terms of managing and coordinating healthcare services and creating better overall experiences.
Providers hope to achieve better engagement with their patients and also better manage their relationships in order to achieve loyalty, trust and customer/patient satisfaction. CRM adoption is being backed by studies that prove the benefits of practices such as one-on-one communication. The benefits include improved outcomes in the areas of mental and physical wellness, even within scenarios involving chronic diseases.
CRM Is Key
CRM solutions are now being seen as key IT contributors to healthcare aspects such as value-based care, ACO strategies, and population health. Though these solutions have been present since the early 90s, it has taken some time for the healthcare industry to take CRM seriously.
However, as adoption continues to grow, we will be seeing more providers, payers, and the creation of life science organizations.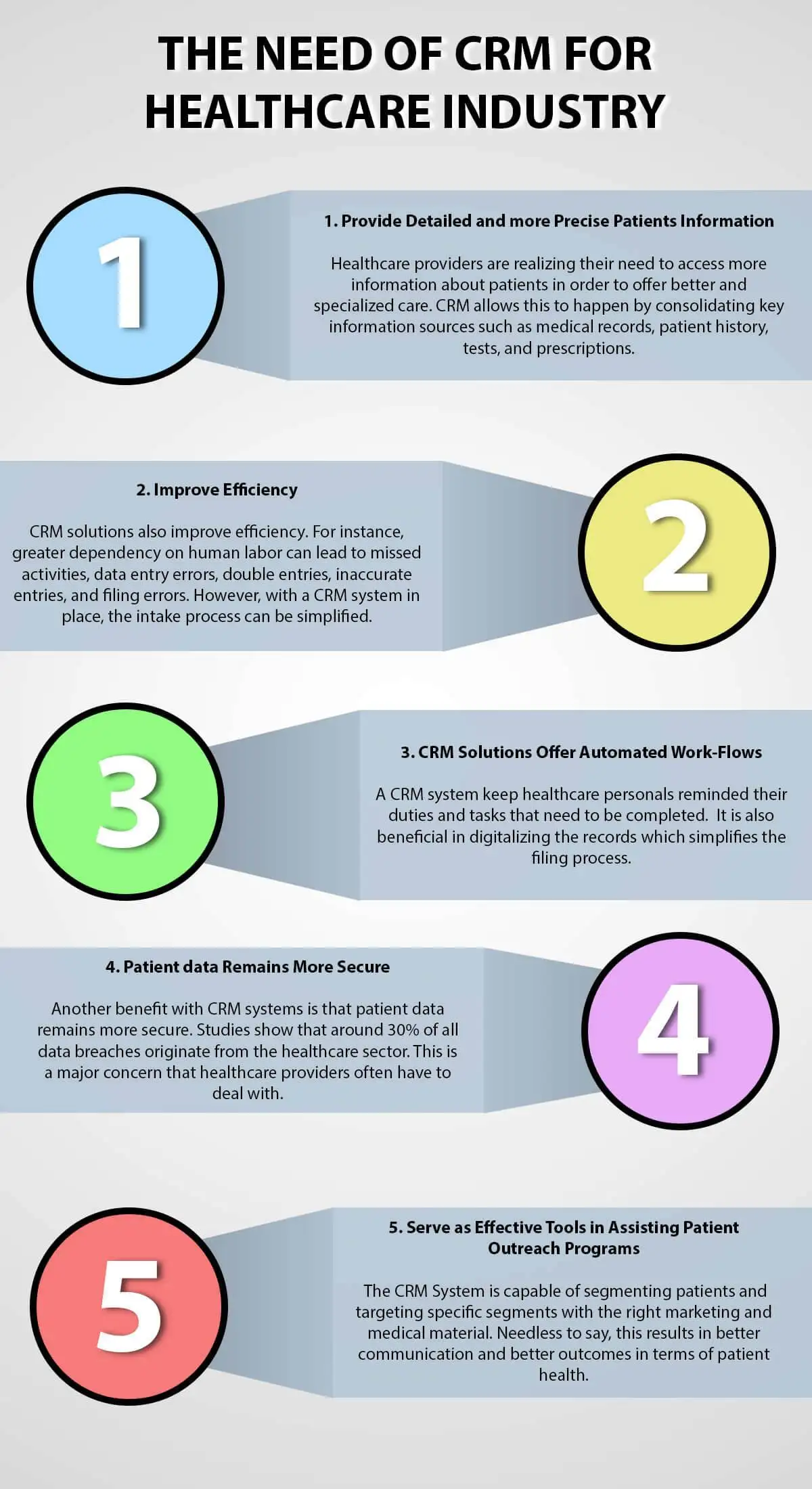 Copy Infographic
The Need for CRM
There is a growing need for CRM now more than ever before. Healthcare providers are realizing their need to access more information about patients in order to offer better and specialized care. CRM allows this to happen by consolidating key information sources such as medical records, patient history, tests, and prescriptions.
But, it doesn't end there. There are secondary and tertiary benefits as well. For instance, CRM systems can serve as effective tools in assisting patient outreach programs. These systems are capable of segmenting patients and targeting specific segments with the right marketing and medical material. Needless to say, this results in better communication and better outcomes in terms of patient health.
For example, healthcare providers can send in reminders about upcoming appointments and stay updated on the patient's well-being. Other than that, the data collected via CRM systems can bring down costs and offer a clearer picture concerning the patient's health, which, in turn, leads to better decisions.
Secondly, CRM solutions also improve efficiency. For instance, greater dependency on human labor can lead to missed activities, data entry errors, double entries, inaccurate entries, and filing errors. However, with a CRM system in place, the intake process can be simplified. There are fewer errors and significant improvements in inaccuracy.
CRM solutions also offer automated work-flows that keep healthcare personnel reminded of duties and tasks that need to be completed. Additionally, there is also the benefit of digitized records, which simplifies the filing process. Other than that, digitizing records can also make it easier to update, change or delete data.
The end result is an organization that is far more efficient. Your processes will see fewer interruptions and will be less dependent on human intervention. As a bonus, your dependency on paper will also drop, thereby, making you not just a leaner organization, but, also a greener one.
Another benefit with CRM systems is that patient data remains more secure. Studies show that around 30% of all data breaches originate from the healthcare sector. This is a major concern that healthcare providers often have to deal with.
However, CRM systems overcome the problem by offering advanced data encryption. Access controls can also be established with robust CRM systems. This regulates who has access to what while cloud storage features ensure that the data is backed up on a secure server as often as possible.
So, not only do you have better security in terms of preventing breaches, but, also better security in terms of disaster recovery.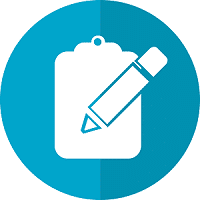 Do you want to implement a CRM system within your organization? Connect with our CRM Experts today!