Custom app developing platforms have removed the guesswork from app development. To develop custom business applications that are mainly designed to suit and simplify your process, you don't necessarily need to be a professional or have the highest degrees in programming. It will not only make you enhance and boost your efficiency, but you can also design and develop apps that your customers will make use of to get the best possible service.
Why Custom App Development is so significant
With your creative mindset and custom app development, you can develop unique user experience. It's no news that millions of people in the world have neglected their desktops and computers for their mobile phone – no wonder the rate of mobile usage is high. They prefer to use custom apps for searches and information, so being ahead of the game is an added advantage to get you to the top.
Enhance your brand by creating a direct contact with the custom app users in a convenient, unique and innovative. This way, your customers would have a solid connection with you. Custom apps give you the avenue to interact with your customers in another dimension that they have never experienced before.
It will also give you the power to allow you to extend your tentacles to a much wider audience as your custom app content becomes easier to access and share across networks. You will also enjoy an easy collection of data through your custom apps. Knowing who your target market is and how they will assist you in developing your business in the right direction.
Making use of the custom app will enable you to do the following things:
Select the icon, the color of the navigation bar, and the name of the app that you so desire.
Addition of standard and custom objects.
Use permissions to control which users have access to your app
Administrators can develop different apps so each team can have a personal space to track any information they need.
Small business apps
Applications aren't created for fun or play alone. Today, lots of small business apps are vital and essential for the success of businesses. Hence, a goal-oriented and smart entrepreneur should have them on all of their devices.
As an entrepreneur, you are already saddled with lots of responsibilities. So, by personally being in charge of your business makes you be in charge of all the things that contribute to the success of your business such as:
banking, budgeting, accounting, planning, employee management, customer management, inventory tracking, quality assurance, marketing plans, complaints, requests, equipment, financing, etc.
Even though you can't develop a new custom app for your business, you can download some small business apps that automate those processes for you and also make life easier for you. It will help you save lots of time, money, energy, and unnecessary stress. Most of these apps are cheap while some of these business apps free.
Most small business owners are not new to operating on a tight budget. Whatever kind of transformation you make when it comes to affecting your business positively, it may cause a great transformation that will give you an edge over your competitors.
Copy Infographic
Written below are some of the examples of small business apps:
QuickBooks
QuickBooks is an accounting software that assists you in the effective running of your business and also provides knowledge of your company's overall financial state.
Lettuce
This software is an all-in-one small business app that you can richly benefit from. It possesses inventory management with a few other useful functions. Such as sales and payment management, customer relationship maintenance, etc.
Amex Mobile
Amex Mobile is a banking app that gives you roaming access to your bank account and statements. It also has great additional layers of security if you're really worried about how to save the app is. This app also provides fingerprint authentication.
Wally
Wally is a unique small business app. It is completely different from other budgeting apps. It can scan receipts and incorporate them directly into your financial planning. So, there is no delay in waiting. It also syncs with your bank statements or you can enter your expenses manually.
Apps for smartphones
It's much more fun and easier to be a small business owner in this era. Technology keeps improving and introducing great tools, apps, and functionalities that will make all areas of business management much easier, effective, and less complicated.
Mobile technology has enabled us to have access to lots of great things everywhere we go. Small business owners can now totally manage their businesses anytime and anywhere.
Examples of business apps for smartphones:
Slack
Slack is a collaboration and project management app. It helps to streamline the communication process amidst your team members.
It also keeps a record of progress, improves discussion and masterminding, and also simplifies to efforts of your team members into fully completed projects.
Dropbox
The Dropbox is another medium through which you can cloud storage on your phone. It has a simple and user-friendly interface that makes it less complicated and without stress. Your team members can easily gain access to the files, edit, and comment on the files.
Buffer
Buffer helps in combining your social media channels into a single place and enables you to timeline posts across all the social media platforms. It also helps you schedule your posts in advance, carefully arrange them and also examine their performance.
Monday
Monday is an app that helps in disseminating information, share ideas, strategize, work in harmony to complete your projects and tasks with your team members.
Expensify
Expensify helps in tracking your expenses by combining your financial reports such as credit card reports, real-time receipt capturing, mileage tracking, etc. It will simplify your accounting aspect. It helps you during the period of busy tax and also helps you in saving some money too.
Automatic Call Recorder
It helps you review some special and important calls, distribute calls with specific people, affirm phone orders or dates of appointments, and also secure your business and employees legally.
PowerApps is a low code development platform released by Microsoft. It allows non-professional developers to build, design and develop custom business apps that are suitable for any device. They help to reduce effort and save time with less coding.
It is a great solution that enables apps to be designed in no time and distributed easily across the organization for employees to download and use.
The Microsoft PowerApps' point-and-click approach to app design makes the development of apps stress-free. All you need do is to select from a large selection of templates and customize it based on your requirements.
Moreover, you can extend the tentacles of your app's capabilities by leveraging custom connectors to connect to your legacy systems.
Microsoft PowerApps offers:
unique customization
Simplified development
Easy and Stress-free development
Integration of business logic
Effective Security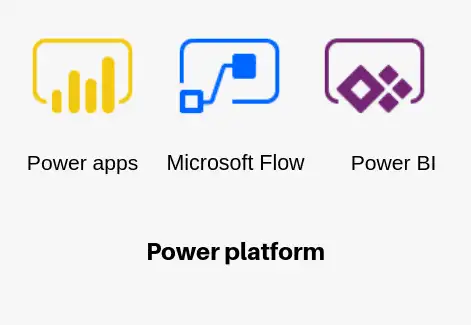 Still, have a question? You are free to contact me or other experts in our team to showcase the real power of PowerApps to you.