CRM benefits are undeniable. This not only can increase your sales, but you may also notice a 74% increase in customer satisfaction that businesses see. Teams even saw a 50% increase in productivity by using mobile CRM apps.
The fact is that CRM apps are absolutely essential to business processes. Moreover, mobile CRM apps that can be used on smartphones and other portable devices are absolutely essential for companies with large sales rep departments.
Having all the data available on the go, tweaking and organizing records, adjusting sales pitches – you can do all that with mobile CRM apps. Here's a list of some of the most popular apps:
Salesforce is one of the top apps for a good reason: you can get practically any CRM features that you could possibly need. Those include, but are not limited to
Lead Management
Sales Forecasting
Partner Management
Time Tracking
Those are just a few of the many features Salesforce offers that can be hard to find elsewhere.
This app was made with medium businesses to enterprise sales organizations in mind, so it has a lot of flexible pricing plans. The good news is, however, once you find a reliable Salesforce implementation team – you can set up pretty much anything with this platform.
But if you have the funds, you will get all of the features that you really need.
Microsoft Dynamics can definitely hold its own against Salesforce and other apps, having all of the same features except sales performance management and time tracking. The features include:
Enterprise Social Networking
Lead Management
Reporting/Analytics
Overall, these are very comparable apps. Like Salesforce, this is also made for medium to enterprise sales organizations, though it's pricing may be more affordable, depending on your needs.
Zoho
Zoho is an app that is ideal for all types of organizations, from small businesses to enterprise sales organizations. You can get most of the same features as other apps such as lead scoring and segmentation as well as sales reports, but you can also enjoy features like:
Create Quotes
Create Membership Sites
Predictive Analytics
It's hard to find some of these features in other apps, especially for the price that you can get Zoho for. You can get a free edition that works for up to 10 users.
What's even better, is that you really only pay for the features that you need.
One downside of Zoho is that it does require you to do a lot of customization to set it up. Another downside is that while you get almost every feature that you could need, there is some depth lacking in a lot of those features.
HubSpot
Hubspot is considered the "starter" CRM for the simplest customer relationship management needs. Basically, the moment you decide that a plain mailbox is not cutting it for you anymore, you can switch to the Hubspot CRM.
Short learning curve and the free plan make Hubspot the go-to for growing small businesses and entrepreneurs. You will be able to create email campaign sequences, set up task reminders, automate activity logging and schedule meetings with Hubspot.
On the flipside, Hubspot has limited features. You won't be able to create advanced custom third-party data integrations or introduce complicated scenarios, as well as manage large and flexible sales teams with Hubspot.
Pipedrive
Pipedrive is an app that is made for small to mid-sized businesses. It has most of the standard features that you would expect from CRM apps including:
Lead Scoring
Lead Segmentation
Web Activity Tracking
Create Invoices
Sales Reports
Real-Time Sales Alerts
Social CRM
Pipedrive can integrate with most other tools that you may use including Outlook, Gmail, and other CRM apps.
One of the best things about this app is that it's easy to use and you can very easily understand the visual platform it uses. You can completely customize it to meet the needs of your business and it's a very lightweight app.
Unfortunately, there's a lack of automation with this app so you may need to integrate it with other apps like Zapier to set up automated scenarios.
Looking for a CRM app for smartphones you and your sales reps can use effectively? Reach out for a consultation and we'll go over all your options with you!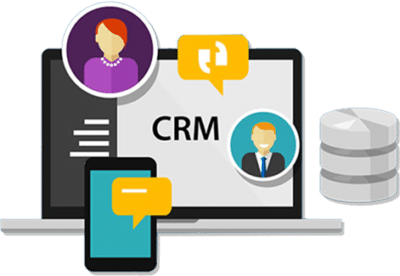 If you are new to automation and confused about Workflow or Process Builder. Need not to worry, we have got you all covered. Talk to our experts and clear all the cloudy thoughts about automation.