Microsoft Dynamics CRM is the most sought after automated sales software that is widely used at an enterprise and corporate level, owing to its users familiarity with MS office software range. Microsoft Dynamics CRM is a swift and reliable CRM software that effectively streamlines customer relationship data into a centralized database. The inbuilt functionalities of MS Office being integrated into the indispensable CRM software facilitate effective productivity for MS office users.
Indispensable automated sales and marketing: Well Sync with MS-Office
The Microsoft Dynamics CRM software makes the entire CRM management task effective for sales and marketing team as it is well-integrated with tools like Microsoft Word, Excel and Office Outlook that equips teams to be more productive and educated. Moreover, the team members and the employees gain deeper insights into the active customer relationship across multiple business process channels.
Copy Infographic
Why does MS Dynamics CRM score well over other CRM vendor software? Read further on this here
The main reason of multiple business adopting MS Dynamics CRM to the core of their sales business work process implementation is its intuitive MS office tool range and familiar UI.
MS Dynamics CRM effectively connects well with other MS office tools, namely Microsoft Office 365, Microsoft SharePoint, Microsoft Exchange, Microsoft Outlook, Windows Server, Skype for Business and Yammer.
Expedite the Sales process: Tightly Integrated with MS office components
Offer an intuitive and easily customizable environment that makes the entire work of customization swift, easy and reliable as per the specific need of the users.
Enhanced worksheet experience –Most of the core work that involves task to manage sales forecasts, calculating commissions, sales process analysis and insights can be completed with the help of all new Excel templates without the prior need to switch or export between the applications.
This makes the entire work fast and reliable saving precious time and effort involved in switching between applications in the middle of completing a business process.
Microsoft Dynamics facilitates authentic sales management that becomes familiar and swift with MS office integration
Contextual documents –Now it's entirely easy to open and access various Office apps within CRM or the CRM mobile app. Subsequently opening a CRM document within a CRM app is also manageable via employing various applications on wide devices ranging from Microsoft Word for the iPhone or Microsoft PowerPoint for iPad).
This makes working on One Drive for Business, SharePoint, and Office 365 Groups seamless and swift. There is an extensive integration of Microsoft office features that is integrated with CRM with an inbuilt Outlook client, dynamic Excel PivotTable exports and various reports enhanced by Word mail-merge integration for letters and custom emails.
Supple with enhanced Reporting: Supported by MS office tools
MS Dynamics CRM facilitates Flexible reporting that enables managers and sales reps to easily see the business process as the indispensable CRM data is easily transferred into Microsoft Office SharePoint Portal Server or into Microsoft Office Excel for analysis for finer lines of executive dashboards updates for focusing and collaborating on customer-related documents.
One of the well-known features includes intuitive inbuilt reporting that becomes a big easy task for those having a peculiar familiarity with MS Office environment.
The crucial takeaway:
A good combination of automated CRM and Office 365 yield amazing results such as the following:
Now, you can effectively view customer information, create leads or open support cases all in one go with indispensable CRM straight from the inbox of your all-time favorite MS Outlook
End users can work smart by perfectly crafting professional documents comprising sales orders and various invoices with quotes by making broad use of MS word templates in CRM software
Excel has long been a helpful electronic worksheet, so users can easily update information in the centralized database by using Excel spreadsheet in the CRM, by importing, exporting and sharing information
You can attach all the relevant meeting notes and useful customer interaction information and data by making use of OneNote in CRM
Storing and synchronizing documents in one centralized SharePoint location and linking to CRM software is simple
Microsoft Dynamics CRM
Facilitates trilogies of sales management, some of it includes Sales Force Automation, Customer Service Enhancement and Customer Engagement Centre. This in conjunction with effective Marketing campaign expedite the overall marketing automation system sync to your CRM, as you can optimize your lead generation thoroughly with deeper insight and real time sales forecast. Comprehensives customer management move lead through the CRM funnel even more quickly, and close the sales with effective strategies.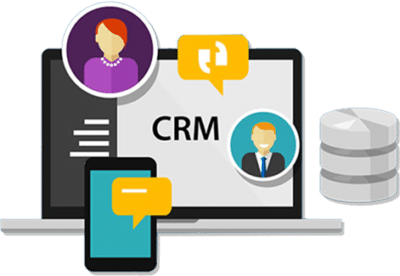 Cynoteck Technology is a leading expert on Microsoft Dynamics 365 and we provide an array of Dynamics 365 Consulting Services to all size of businesses. Get in touch with us for latest updates on Dynamics 365.