Artificial Intelligence is posing as the most promising technological advancement in the business world. AI has been integrated into multiple industries, especially finance, marketing, sales. Along with reduced labour costs, AI in Retail promises other benefits such as speed, improved planning, scalability, automated procedures and elimination of waste and errors. The artificial intelligence technology continues to evolve with new systems designed and optimized for certain industries.
The retail industry is yet to benefit fully from this new and awesome tool, mainly because AI software is expensive to purchase, maintain, and integrate. At present, very few retail establishments can justify the expense of integrating AI systems. Some business owners are still skeptical of change or completely ignorant of the uses of AI in retail. Our hopes are still high, looking towards 2020. For now, we deal with the uses and cases when AI would be profitable in retail.
First off, Artificial intelligence refers to a situation where machines are programmed to display certain cognitive characteristics that were formerly restricted to organic life forms, such as learning, problem-solving, and emotional reaction. Note that this doesn't mean these machines gain consciousness or all those Sci-Fi personalities but we're hopeful that one day.
Benefits of AI in Retail for 2020
The most common benefits all AIs possess is machine learning capabilities. The AI algorithm is provided a large number of data sets which it analyzes to create a model, that is then used to solve new problems making seem like human learning from experience.
An AI in retail will be able to study sales records, customer data, and market information. The model that is derived from this process will enable retailers to easily discover trends in the market and customer purchasing behaviour. The AI can make projections on a large scale into the future taking into account factors such as state of inventory, sales trends, and consumer feedback. Armed with this level of information retailers can make swift and informed decisions that will lead to higher productivity, lower waste, a higher success rate of campaigns and improved scalability.
AI systems can also learn to man help desks, releasing manpower for other important tasks, while improving consumer experience by providing 24/7 customer support. AI systems can perfectly manage contact information, send regular congratulatory messages, and update customer preferences to improve customer experience and satisfaction
Copy Infographic
The benefit of AI in retail for 2020 also includes improved data management, analysis, and planning. AI possess advanced analytical capabilities, enabling them to extract esoteric information from data sets. AIs can then design advanced models to bring creative solutions, suggesting areas and methods of improvement.
AI systems can also facilitate smart communication and data transfer modes, scheduling data downloads and uploads and providing important analytics on market or business factors. AI systems can help retailers analyze the business process, employee productivity.
AI in retail can also optimize inventory design and space usage. AI can design retail shelves taking into account expiration date, color scheme, and consumer preference. This will enable retailers to increase sales, attract customers, and eliminate waste of space.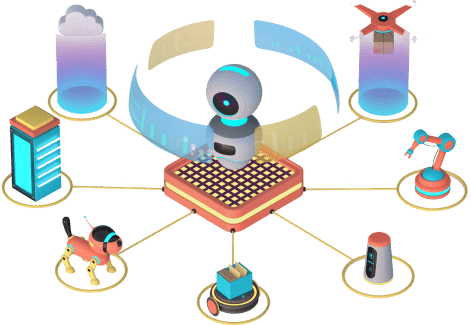 Planning to Leverage AI for your business? We provide AI Consulting to help organization implement this technology. Connect with our team to learn more.